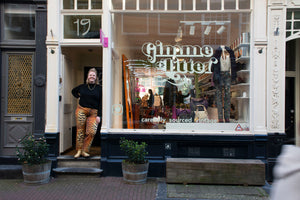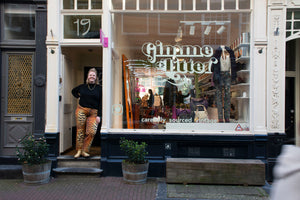 Let us introduce you to Gimme Glitter
We are
a vintage webshop and store in the city centre of Amsterdam to find the best designer and branded items to funk up your life. We source our items all over Europe with one criteria; It should be a treasure you can fall in love with.
"We believe adding a little sparkle will spice up your life!"
How it all started
Gimme Glitter's owner, Elin, has a history of styling in the event and festival business. In her previous work she used as much vintage pieces as possible because of its extravagant and unique character. When she lost her job 2 years ago, she decided to make her side hustle; selling vintage, her main business. At that time there was a big hype on Ralph Lauren shirts and she started selling these shirts on online platforms. She noticed that there was a crazy craving for vintage with her customers. She was collecting vintage designer and unique pieces for herself already and always found way more items than her closet could handle. When she noticed that it is hard for vintage lovers to find the perfect vintage gem in beautiful condition and selling Ralph Lauren items got boring AF, she decided to start an Instagram account with designer and branded unique pieces that are rare to find and deserve a second life. She went on a trip to Italy and found her first vintage designer bag to sell. It quickly went from one Prada bag to ten Prada bags to a fast-growing company. Today Gimme Glitter does not only consist of an Instagram acount. We also have a webshop and a vintage store in the city centre of Amsterdam.
Best quality pieces
Our passion for vintage means that we provide our customers with nothing but the highest quality of products. We've come a long way, so we know exactly which direction to take when supplying you with high quality vintage for the most reasonable price possible. All of our vintage designer pieces are handpicked and sourced all over Europe. We only sell items we truly love. That's why you'll find a funky and playful mix of vintage branded -and designer pieces. We thoroughly check the quality of our goods, working only with reliable suppliers so that you only receive the best vintage quality product.
Consciousness
Consciousness is a subject close to our hearts. What's better than being kind to the earth whilst wearing your favorite items on earth? Making responsible choices is something we work with everyday. It's impossible to be 100% sustainable but being aware of consequences is already a step forward. For example we print our labels on certified recycled paper. We don't print your receipt but send it by email and recycle all of the wrapping and boxes while shipping your new treasure. We like to think we're conscious and always looking to improve. Keeping it fun and positive is our way to go. Looking fab and contributing to the environment at the same time.